A Short History of the Toronto Medical Historical Club
The idea that a history of medicine club should be organized in Toronto was the brainchild of Professor James Wellington Crane of London Ontario while visiting in Toronto with Dr. Paul O'Sullivan. On January 24, 1924, the first meeting was held at the home of Dr. Jabez Elliott. Present were Drs. P. O'Sullivan, H.B. Anderson, John N.E. Brown, Arnold Clarkson, George Porter, James Crane, George S. Brett, Horace Speakman, Hardolph Wasteneys, and Sir Bertram Windle. Dr. Elliott was installed in the chair, Dr. O'Sullivan was elected secretary and Professor Crane, Sir Bertram Windle, and Judge William Riddell were named honorary members.
The membership was almost immediately expanded to include Drs. Harold Tovell, Norman Gwyn, and Sir Frederick Banting and Professors Oskar Klotz and Playfair McMurrich. The number of members at any given time has ranged from fourteen to twenty. Since its inception, the club has met regularly during the winter months, usually five or six times a year. Each meeting is usually held at the home of a member and it is the host's responsibility to present a paper.
The spirit of Sir William Osler has always been a strong influence on the club. In 1930 his nephew, Dr. Norman Gwyn, a charter member presented to the club a gavel made of wood taken from the ruins of Sir William's homestead in Bond Head, Ontario. On July 12, 1961, the club erected a cairn on the site of the rectory which was Osler's birthplace.
Original text by Arthur Gryfe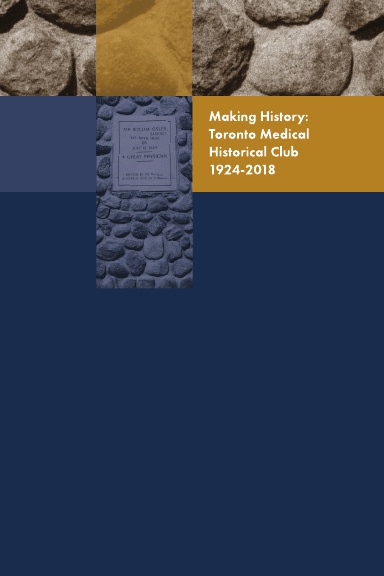 Our club history, Making History: Toronto Medical Historical Club 1924-2018 is edited and compiled by Peter Kopplin and Irving Rosen.